Race Proven, Street Approved
Supporting Vendor
645
952
Exp. Type

Time Attack
Exp. Level

5-10 Years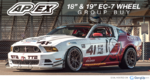 APEX 18" & 19" EC-7 Mustang Wheel Group Buy


This Group Buy has ended, thank you to those who participated.
We're kicking off the new decade with our old faithful, the EC-7 Mustang Group Buy! Back by popular demand, our 18" and 19" EC-7 Mustang wheels are available in both staggered and rotatable square fitments, providing S197 and S550 enthusiasts alike with lightweight, flow formed solutions to meet your specific needs.
The EC-7 design offers industry-leading brake clearance, effectively clearing all factory brakes and aftermarket big brake kits that we have come across. Do not be forced into running larger diameter wheels than desired due to inferior brake clearance. The 18" EC-7's clear the S197 14" & 15" GT500 Brembo brakes and S550 Performance Package brakes, in addition to many aftermarket big brake kits like the Essex/AP 372 Competition or StopTech 6 piston 380mm kits.. The 19" EC-7's provide superior clearance for the massive GT350 Brembo BBK. More than most wheels on the market today - including twice the barrel clearance to the OEM GT350 and uber-expensive GT350 R carbon fiber wheels.
This Group Buy conveniently offers tires such as the Nitto NT01 and Michelin Pilot Sport 4S, along with accessories like TPMS, color-matched metal valve stems, and ARP extended wheel studs. This deal allows Mustang enthusiasts around the world to "GangUp" for a chance to receive the largest discount offered on our 18" & 19" wheels. The more enthusiasts that pledge, the greater the discount will be. With the ability to set a minimum required discount, there is no risk in signing up early, as orders will only be processed if we unlock your desired discount.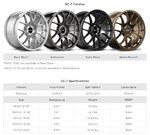 Add Tires To Get Free Mounting & Balancing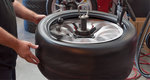 Wheel & tire bundles are available with this group buy. Add tires with your group buy wheel order and get Free tire mounting and balancing by our trusted enthusiast technicians. We use high-end, touchless equipment and inspect every wheel and tire combo thoroughly before they leave our warehouse. Popular Michelin & Nitto tires are available.
Thinking about waiting to join until your discount is hit? Don't do that!
We always recommend getting your pledge in as early as possible. The system in no way rewards watching the deal and joining late. The whole purpose of the pledge system is to allow you to join with confidence and security even within the first minute of the deal accepting payment. You'll never have to pay more than you're willing to - even if you're the first participant. Pledging is risk free!
I want to know more about APEX wheels. Where can I learn more about them?
All APEX wheels are highly regarded and fully verified with official JWL and VIA certifications for every single size and offset. We created these wheels to inspire confidence during track days, race events, and everyday driving. Click here to
learn everything about APEX wheels
. The quality of information is worth your time!
What's different about our Group Buy?
Joining Group Buy deals via forums is traditionally a very manual process. Since our deals have grown so large over time, we are working with a new tool to organize these deals in a single, well organized location. This deal is entirely managed on GangUp.com where you can pay, follow, and discuss the deal's status.
How do I participate?
Visit the official
Deal Dashboard
on GangUp.com. From there, you can show your interest by joining our feeler list. You'll receive an email reminder when the deal officially opens. When the deal is live and accepting payments, you can complete checkout and pay for your order from the same page. All product details, member participants, and discussions can be found on that
Dashboard
.
What if I have some questions?
No problem! You can simply contact us by clicking "Message Vendor" on the deal page or via
[email protected]
. Please avoid sending us Private Messages as they do not automatically go into our ticketing system and will experience a delay for responses.
Want to see how they look?
S550 Gallery

S197 Gallery

Last edited: