There is a lot of grille information floating around out there so I though I'd compile all the info I have into a concise thread. I've narrowed down my search to the Ford Racing Cobra Jet grille because it's a one piece design and it comes painted white which obviously matches the white striped cars. The info on the CJ grille states it doesn't fit cars with a stock hood but member Nota4re has one mounted on a customers Boss with no issues. Another interesting option is the new TruCarbon carbon fiber one piece grill. It has a very open design and has the potential to flow the most air. I'd add SS wire mesh behind it for additional radiator safety.
With our cars running hot on track the obvious solution is to buy a 302S grille but I think a bar style grille like the CJ, TC, Roush style, or Saleen will have better air flow into the radiator.
Which grille are you using and why?
Anyway here's the links and a couple of photos.
Cobra Jet grille
http://www.fordracingpartsdirect.com/2010_COBRA_JET_GRILLE_p/m-5767-cj10.htm
http://www.race-mart.com/Ford_Racing-FMS-M-5767-CJ10.html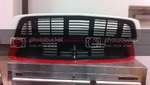 TruCarbon CF grille
http://www.trucarbon.net/Trucarbon_Mustang_Carbon_Fiber_Front_Bumper_Grill_p/tc10025-lg87.htm
Wire mesh
https://www.pegasusautoracing.com/productselection.asp?Product=3642
302S grille
http://www.fordracingparts.com/parts/part_details.asp?PartKeyField=13485
GT Surround
http://www.rockauto.com/catalog/raframecatalog.php
Roush Billet Bar Grille
http://www.cjponyparts.com/ROUSH-GRILLE-UPPER-BLACK-BILLET-GT-2010-2011/p/G111/
Saleen Grille
http://www.americanmuscle.com/saleen-s281-grille-1012.html?utm_content=saleen-s281-grille-1012&utm_campaign=GSFitmentV1&utm_source=Google&utm_medium=Shopping&AMID=saleen-s281-grille-1012-2011-GT