Well, I got my rear emblem from Emblem Pros in today and me and Justin installed it tonight. It's quite a bit more involved than the '12's so I figured I'd do a write up for those who are interested.
First thing you have to do on the 13's is take off the rear deck lid panel. Surprisingly it's not double sided taped on, just two screws on the back side of it accessible from the back side of the trunk(torx bit) and then 12 plastic clips that you have to pop out with a long screwdriver as you peel back the panel.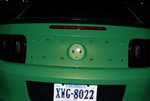 Then you have to remove the emblem from the black plastic deck lid. If you heat it up, tap on the plastic tabs sticking out of the back and it will just pry out of the deck lid.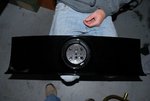 Now for the harder part. On the 12's the black insert with the horse on it will separate from the chrome housing. NOT THE CASE on the 13's. The horse is molded into the chrome housing so this is where it gets very DIY.
You need to Dremel out the horse part while leaving enough of a lip for the new emblem to latch onto.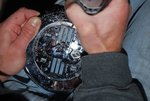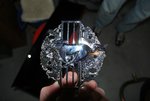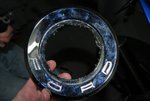 After that you can clean up the cut with a sanding wheel. IPA wipe down everything and apply adhesion promoter to the chrome part where the new emblem will go. Peel off the tape on the back of the emblem and line it up. Once you put it down with the promoter on, it will NOT MOVE. Wherever you stick it, it's staying for good. Mine is a little low, as is Justin's, but it's not very noticeable.
You then need to reattach the chrome housing to the black plastic deck lid panel. It will no longer clip in place since you cut off the horse part that has the clips. You can use the supplied double sided tape and the adhesion promoter to place it back on nicely.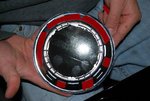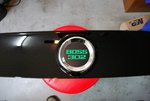 Back on the car, like it should have came with.
The deck lid will just clip right back in and you screw the two torx bits back in.