This is the Build Thread for
24 hours lemons
. Reply below.
July 2020 (Some of this has been shared in another thread on 7.5 Diff - Centralizing here)
Stripped the interior.
Test fit the seat - ordered the seat brackets too late so wasn't able to install. check out my awesome wood seat brackets.


Dropped the fuel tank and installed a new fuel pump. realized the evaporator sensor plug was wrong. reinstalled the previous but pretty new looking pump. new fuel filter. Ran a lot better with new gas!
After tripping over the rear sway bar 4 times I just installed it to get it out of the way.
I think i have the kill switch figured out drew a diagram but didnt start wiring.
Realized both rear axles are bent. Previous owner hydro planned it into a ditch pretty bad I guess. 2 of the rims were cracked pretty good!

Professional welder for 'completed' welding
August 2020
SPA fire suppression system
Installed the 8.8 rear end, lSR Performance 1.5 inch Lowering Springs. 460 lb/in - Front; 280 lb/in - Rear, Tokico D Spec adjustable shocks
17x8 inch wheels with 245 Hankook R-S4s
Crow Enduro 6 point harness
September 2020
Friend finished welding cage - There was a ton of stuff the 'pro' missed. Where the A pillar bar landed on the spreader plate only had about 1/4 of weld on it.
Front Cobra calipers and 13 inch rotors, stock rear calipers and rotors with Carbotech RP2 on front and back.
Steinjager Rear Upper Control arms with J&M spherical bushings
Steeda X2 ball joints and outer tie rod bumpsteer kit
Battery box in stock location


AC delete, K&N air filter
Noticed water dripping from the exhaust. Tested and found exhaust in coolant. With less then a week until the race and lack of confidence in my ability to replace the head gasket I rolled the dice on some head gasket sealer.
September 12th, 2020 The RACE!
Car passed tech and ran great. Class B no penalty laps.
Took about 8 hours off saturday night to sleep.
All 5 drivers got their fill of track time.
Hit 300 official laps.
With about 15 minutes left in the race the car lost all power, could barely keep it running. limped it into the pits. checked it over and fired right back up with full power. Went back out for 2 more laps and the checkered flag.
The biggest problem the car had was brake warp. By sunday morning the dunk, dunk, dunk was pretty bad. Will definitely have to add some brake cooling for 2021. The RP2 pads can really eat some rotors when they get hot. Cooling is a must!


Everyone agreed the weekend was awesome and excited to do it again next year.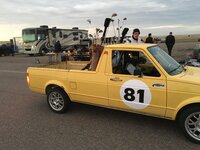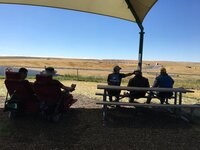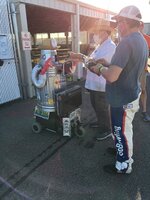 Last edited: