As some of you know, I've had a very difficult time deciding between the roll bar and full roll cage in this car. The roll bar seemed like a good option but left me with a lot of work down the road when it came to the inevitable roll cage, and so I decided to just install the full cage now.
As I had the roll cage all fitted up and ready to weld, something made me take a minute and ask why I was taking this car off the road and making it 'track-only'. I couldn't really come up with a reason that made sense- I can't afford to build the car to be competitive and go racing right now, nor was I very excited about not being able to drive the car on the street regularly.
So, last week sometime, just before I settled in to weld up the front half of the roll cage, I pulled the plug. I cut the tacks on the front half, put the dash back in it and welded up the roll-bar instead. And I have to say I'm very happy with my decision as of now. I'll be installing most of the interior and making a rear seat delete. Looking to ride the line of compromise between street car/track car for a dual duty, reliable ride.
But anyway, here is one last photo of the top half of the cage before I took it apart.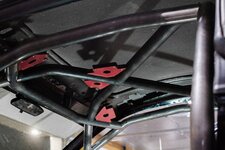 The fit was awesome. Hard to tell here because it's sitting down in position to weld the tops of the tubes. But, I can say that I successfully built a very nice, tight fitting roll cage. I labeled everything and set it aside in case I do one day decide to install it. But for now, we're going with the roll bar. It will provide adequate roll-over protection and enable me to use my 5 point harnesses and HANS device.
I cut 1/4" off the bottom of the main hoop legs and it tucks tight up agains the headliner, now. It was basically tight against the sheet metal before. I have the rear stays and diagonals welded to the main hoop at this point. I need to finish welding the plinth boxes into the car and weld the roll bar in place. I'm almost done with the seat mount bracket and then I can place the harness bars. Still a ton to do before leaving for GingerMan this Friday afternoon, but I"m going to make it. It's just gonna be a tough, busy week.