My GF is at a dealer with her neighbor looking at a 2008 GT500. They sent me a pic of a '73 Boss 302 that the place also has. Salesman says it is all original. What do you guys think? Pretty sweet '73 isn't it.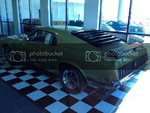 I told her it was a 70, if it is real, but she swears up and down it is a 73 and says she thinks I am ****ing with her. I told her the stripes are wrong for a 73... since she didn't believe me that the 73 mustangs had a different body and no Bosses.
I'm not sure if she is ****ing with me, or the salesman is that bad. She also sent me a pic of a GT (supercar, not Mustang) and the salesman said it is a Shelby.
I told her to find out the price on the 73 ;D