152
280
Exp. Type

Time Attack
Exp. Level

Under 3 Years
While I'm still waiting on parts to get the motor in, I've been working on tearing stuff out out the car. I have no use for AC at this point but don't want to pull the dash get all the related components out. I purchased have some block off panels for the firewall but I've run into an issue. Calling this an issue is definitely an overstatement, it's more of a minor nuisance. The fittings that originally held the heater hoses protrude a fair amount. I'll probably end up capping these off for now.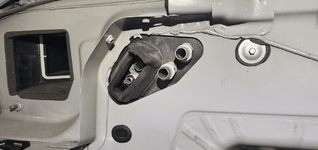 I've also pulled all the fire suppression material out of the engine bay and it's looking pretty naked
I've always respected
@captdistraction
and his dedication to wrapping the entire firewall in heat reflective tape. I may choose to do this same before I get the engine back in. Also something interesting is seeing how toasty the headers have been getting the frame on the passenger side.
Still no ETA on the headers or radiator at this point, but the wing gets here tomorrow. More pics of that soon.