https://www.archetyperacing.com
Supporting Vendor
This project needs its own thread. I know a lot of you were following along on the existing VENGEANCE Canard thread. If the admins would like to snip any pertinent posts from there and add them here, it would be greatly appreciated.
As of yesterday (7/7/20) I made subtle modifications to the design to put the canard at a better angle in relation to the airflow and the fascia. A buddy with a '10 GT500 was at the track and I brought the 3D printed canard along to check the fit and BINGO, it's a go!! So for those in the '10-'12 camp that were waiting for good news, there you go!
I aim to have the latest rev 3D printed part in hand this week. I'll get it test fitted and if everything is good, a plug will be made for the mold and we'll be making parts.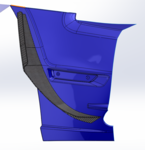 Last edited: