https://www.archetyperacing.com
Supporting Vendor
It's been a while. The WARTHOG Air Box Lid has been moved from the front burner to the back but has now made it back to the front burner and about to be served. Over this time, there have been several iterations of this part. Different ways to mount it. Different designs. The pictures below are basically what you're going to get. Four OEM screws mount the lid in the OEM locations. Couldn't make it much simpler than that.
If you're running a vented hood which exposes the airbox to the elements, this part is for you. No more silicone, plexiglass, and self tapping screws. It's a clean and simple OEM appearing solution.
It will go into production on the week of 6/22 as a printed part. Pricing has not been set, but I'll pull those numbers together in the next couple days. Stay tuned!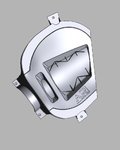 Last edited: