My son purchased a 2020 Eco Boost for D Street. Its a HP and handling package version. Its stock except for a set of 18' wheels. We are running 295/40/18 660 falkens all the way around.
ISSUE - the car feel very unstable in transitions and slaloms compared to the start of the year even after fixing the alignment
Alignment is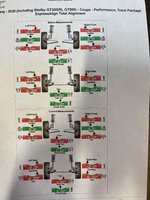 The has worked all year until nationals at Lincoln. I had tested the car in Lincoln in May and it worked. I was about 1.4 second back of the guy that got 7th at nats in D Street. With a lot of room to improve as I got used to the car.
At nationals the car was loose. I trailer it up and the alignment was moved with toe out on the right rear. I got the alignment back to the above and it was better but still unable to get power down and did not slaloms as well as it had been.
Questions:
1. B, D, F street guys what are you running for alignments?
2. Anyone running the Magneride shocks?
Car working at Lincoln in May same setup
Car NOT working at Lincoln Nationals