After hearing all the horror stories about the FP350S pan, I am surprised how easy going it has been so far.
I learned about the clay trick and checked the clearance of the pickup tube. Came in at ~3/8th". I only used four corner bolts to gently tighten it down so it will likely be a little less.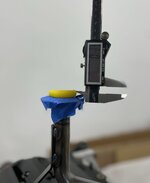 Chris had a bunch of issues with the base of the pickup tube not clearing the gasket. The one I got from Ford has zero issues in that regard.