So my hose died last year and I needed to buy a new one. I love washing my car but hate pulling out the hose and putting it away. No matter what you use it looks like crap.
Was at the home and garden show and saw this crazy looking Robo Reel. It was really cool, but you can't leave it out in your yard unless you want your $700 hose stolen. It will also take up a lot of space in your garage and the hassle of taking it in and out.
I thought to myself, man I'd pay $2-$300 for an automatic hose reel. I'd never seen one so I did some research and found this Euro company named Gardena. They had several kinetic hose reels where you pull the hose and it retracts manually.
I thought cool, this would work and I will give it a shot. Then I found they had new lithium powered version for just a little more. Bought it from Amazon for $300 and installed it a couple of weeks ago.
I love this thing, it is just a lot of fun to use and works great. It has a corner mount guide to help keep the hose from scraping the hose on the corner of the garage.
It uses a quick connect coupling system which appears to be specific to the Gardena system. So it easily attaches to the hose bib. You can disconnect the hose attachment with the water on to change attachments if you want to. It has an auto stop feature which is nice. You will need to buy a coupler to yes your own attachments. That is my only knock on the system so far. It came with couplers, but none that would work with my attachments.
Luckily with Amazon prime I was able to order some nicer metal couplers vs the plastic and got it within a couple of days.
Just thought I'd share because I know others like to wash their cars as much as I do and who knows maybe garden as well
You can find a video on you tube for it too if you look for it.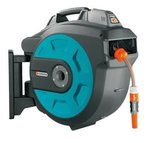 Sent from my iPad using Tapatalk HD