Zaino, I put that $hit on everything
After tracking my car in the build thread just about every day since it was produced on June 7th, I knew that I was close to finally getting mine. My wife's took 25 days to arrive in 2010, so I was hoping mine would take about the same time. I had been emailing my dealer regularly, and they knew I was dying to get my hands on it. So the morning of July 3rd I email them and tell them that I know my car is at the rail yard and is just waiting on a truck, and to call me. Sitting at my desk at home 'working' (delayed my full week vacation so I could have the maximum amount of time with the car paid off as I won't have to go back to work until next Wed.) I was surprised when I got an email from the dealer saying 'it's here', along with 3 pictures.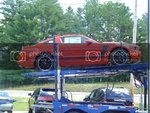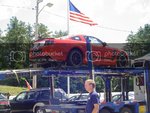 So I call the credit union where my wife got her loan, and I had already filled out the loan application, but not submitted it yet. Then I get the bad news that as it's already late in the day, AND just before the July 4th holiday, that there's no way to get approval today so it would be Thu at the earliest.
Well screw that, I call the dealer back and asked what rate they could get me today. They had previously told me they couldn't beat the 1.74 % I had been quoted, so I asked what they could do RIGHT NOW. They said they could do 2.24, which only came out to $8 more a month, made that decision in a nano-second. ;D Also turns out their bank has a lower loan fee, which was around $200 cheaper than my credit union with the lower rate. Just goes to show you that when you shop around you need to compare the total cost of everything when calculating your net cost. I know I can always go through the hassle of refinancing if I want, but with rates being so low now it's probably not worth the bother.
Just had time yesterday to get it washed, clay barred, and a 1 coat of Z2 & Z6 before it got dark and went on a quick cruise to Hampton Beach with the wife. Now I'm off to start putting on the layers of polish, I am looking forward to getting a workout. I will post again with first impressions and a full photo spread when it's ready. Sorry for the low light pix, I was just able to beat the night time 'dew effect' that plays hell with wax removal.