Because racecar.
Moderator
I will use this thread to chronicle the build progress of my 2012 BOSS 302 into a wheel-to-wheel race car (without a license plate).
Feel free to ask questions etc. as I go along.
I apologize for the broken image links; I am hotlinking most of these pictures from my Facebook page and they keep changing the archive links on me. I'll be moving the files to IMGUR in the near future to ensure consistent file delivery for those of you that are actually interested in reading these updates or those of you starting from the beginning.
Beginning state (picture from February '13 BMO Track Weekend @ Chuckwalla):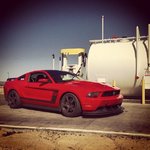 Intended competition classes:
NASA ST3 / ProAutosports PS1 race classes (9.0:1 power to weight)
Over the next few months I will be tearing the car down, adding a 6-point roll cage, racing seat, cool shirt system, fire suppression system, electrical cut offs and a few other odds and ends.
Most of the installation/fabrication work is going to be done at a local race shop, but the teardown and some of the smaller items will occur in my garage.
The car will be ready to run October 1 2013, for a series of shakedown events preceding the 2014 race season here in AZ.
Before the teardown even really begins, the car already has the following mods:

FRPP 302S Oil Cooler System
Roush/KW Coil Over Suspension
Strano adjustable swaybars F/R
McLeod RXT Clutch w/ Aluminum Flywheel
CJ Pulse Ring
YellowBoss 302S Breather System
302S Splitter
302S Grille
LS Wing
LS Trans Cooler Scoop
Steeda Shifter
Sparco steering wheel w/ NRG quick-disconnect
TracKey
Roush mufflers
FRPP 302R LCAs (poly)
FRPP LCA Relo Brackets
Energy Suspension UCA bushing (diff side)
Tiger Racing FG hood
Clutch assist spring delete
Maximum Motorsports Bumpsteer Kit
FRPP 302R/S ABS Module
Here is a shot of the most recently-installed mod, the quick disconnect steering wheel setup: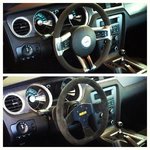 This weekend I am planning to install a fresh set of spark plugs (Motorcraft SP-519), and install a Lethal Performance off-road X-Pipe along with an AED custom tune. Looks like Ford won't cover a TracKey warranty claim if the vehicle is being used in competition/timed, so it's time to go aftermarket. Stay tuned for more updates as I make progress on the car!