Because racecar.
Moderator
OK so this thread has been dormant for a while; I have been busy preparing for this year's NASA West Coast Nationals which were held at Laguna Seca.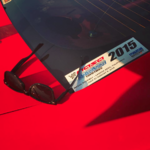 I managed to run a morning test and tune event at a local track about a month ago, where we were able to do a front swaybar sweep and either confirm or deny my own thoughts on performance with the different settings. Lots of internet talk about making the front bar as stiff as possible but that didn't work out for me at all, just made the car push-crazy (as I figured it would do). So in the end I settled on full soft in the front as I was running before.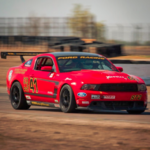 That helped me learn a lot of things that WOULDN'T work for Laguna, so it was still a good use of my time and money; but I was heading to Laguna without having the suspension completely dialed in. I had time to install the Hotchkis UCA but didn't because I was lazy. That will have to come another day.
So last Wednesday (the 29th), four other local racers and myself set out from the Phoenix, AZ area towards Monterey and Laguna Seca. The drive wasn't eventful, but a couple of us took a different route due to a critical bridge on the I-10 West being destroyed by flood waters from a recent storm. We stopped in Bakersfield for the night to prepare for the second, shorter leg of our journey to the track. Unfortunately, when we awoke the next morning, we found one of our racer's trucks had been broken into, and all of his race gear (save for his helmet and HANS) had been stolen. This made our drive out to Laguna a somber one. While we stopped for fuel along the way, I put out a couple feelers to our race group attendees, who were able to lend enough spare gear to get him legal for the weekend--this was a great outpouring of support from the racing community to help someone they had never met before. I <3 our community.
Finally on Thursday afternoon we arrived to the track and were able to stake out some spots in the paddock and unload our cars. The 16% grade hill going up and into the facility made towing in slow-going, but we knew that already from last year's visit. Also we learned last year not to go up the grade with minimal fuel--because one poor guy stalled out halfway up and it wasn't worth the risk of stopping to try and help!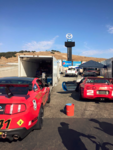 Thursday evening we had to attend a mandatory driver's meeting to go over the details for the championship weekend; the meeting was held in the Red Bull Pavillion overlooking the track, which offered us this view:

The sunset was also quite beautiful: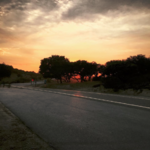 Thursday night I managed to steer our group to Turn 12 for dinner, mainly after reading about it here on TMO. The drinks and pizzas were good and definitely hit the spot!
Friday we started our championship weekend. Last year about this time of year my best time was a 1:40.7. After making a couple quick damping and camber adjustments, plus a fresh set of A7s, I was able to lay down a 1:37.8 in Qualifying, which turned out to be my best lap of the weekend. Thanks to
@ilesjohn
for the tire advice that led to that time. Unfortunately my Go Pro was sitting in my trailer during that session so no video of that lap
This is the setup I stuck with for the rest of the weekend as well.
When we came back in, the A7s were so sticky and hot they ripped up some of the pavement: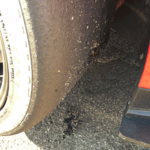 That 1:37 time put me mid-pack in a large group of cars, shown here (plus two more cars that didn't have their transponders register), and the gap to the lead was a big one.

That night we headed back into Monterey to find dinner, and ended up at Montrio Bistro. It was definitely more expensive than the previous night's fare at T12 but I would have no qualms eating here again. The food was great as well as the atmosphere and service.
When we returned to the track, the full moon gave us this view of the Mazda sign: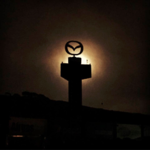 For Saturday we had a warm-up session followed by a Qualifying Race. I started that QRace in 7th position and managed to run consistent low 1:38 times, which landed me in 6th position in class after one of the Corvettes broke down during the race.
Here's the first couple laps of Saturday's race:
Sunday for the championship race we were gridded by "points" from our best times from Friday and finishing position from Saturday. This put me in 6th in class out of 13 after one guy's motor blew. I moved up to 5th before we even took the green when another competitor's Corvette failed to start when it was time to go onto the track. The whole weekend was more about reliability and consistency for me, since I didn't have the speed necessary to be competitive with the fastest guys in the group.
Here is some footage from the start of Sunday's race:
I got a much better start on Sunday but the fastest guys just walked away from me after the first lap. After that, my goal was to run consistently for the duration of the 45 minute race and not get into any trouble with traffic (either passing or being passed). There were a number of incidents and crashes during the race that created many caution zones on the track, but no full-course cautions were thrown.
On the final lap of the race, I ended up closing quickly on the white Supra--turns out he had run out of fuel during the lap! I was close enough to get him before the checker, but I didn't have to because he pulled off before the flag and DNF'ed, bumping me up to 4th in class for this year's ultimate result.
All in all, it was a good weekend and a ton of fun. I think the car is well-sorted now, but I feel I've reached the limit of the stock braking system and will have to go to a Brembo Pro-Kit and lightweight 14" rear rotor setup before returning to an event of this caliber again. I had to use every bit of stopping power available to get the car slowed down going into T2 and T11, and didn't have any extra left over to try and make late passes here, which typically I can do very well at other tracks. Gonna have to open the wallet to get that capability at Laguna.
As I mentioned before, it was more important to be consistent and reliable, but I will have to sack up to go faster next time we are out here. I have a feeling that the car is capable of 1:35s in the existing trim (save for the brakes), but the driver is not.
My truck died about 175 miles from home on the way back, which was a little stressful, but we managed to get it going again with some starting fluid. I need to spend the next few days troubleshooting the issues and getting that fixed! Fun stuff
Hope you all enjoyed the write up!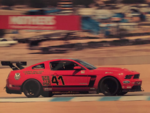 Last edited: