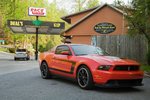 I played hooky from work today and went for a fun drive. ;D
I wanted to get a feel for how the Boss handles near the limit without doing triple digit speeds, so I took her over to the Tail of the Dragon today. It's only an hours drive from my house.
For those that have not driven the Dragon it is wild. 11 miles long, 1085 feet of elevation change, 318 curves
, and no guard rails. I went early and on a week day to avoid the hoards of slow poke sightseers. My plan payoff and I was able to make it to the top without getting held up at all.
I drove the Boss at about 6/10ths leaving lots of reserve just in case. I have to say, I was very impressed with how much grip this car has. I wont be surprised if my neck is sore tomorrow from all the g-forces this car makes. It is very neutral with no tenacity to under or over steer. The Torsen diff really lets you put the power down early. My only wish is for some more feedback in the steering as to what the front tires are doing. Other than that, this is a great car. I can really see now that she going to be a blast on the track. ;D I may have to change my plan on how soon I take her to the track.