Note: I tried to post this back in December, but had some technical difficulties. Just remembered I had a draft, so here it is.
Just got back from working in Sydney and happened to be there at the same time as their 2012 International Motor Show. The Mustang is not sold in Australia, so I knew there was no chance of seeing a Boss there. But, as I walked towards the huge outdoor Ford exhibit, I could see a familiar "C-stripe" in the distance. How could that be? Special import? I got to the cars and this is what I saw.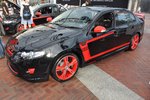 It's an FPV Boss 335 GT RSPEC. It has a Prodrive-built supercharged 5.0 with it's own engine designation - Miami. It is definitely the Coyote block, but have no idea what else Prodrive did to it, but I didn't do any significant research.
Keep in mind, this is a Ford-authorized car. This is not from a tuner. That said, what do you think?
I wouldn't trade my real Boss for it, but I can't say that I wouldn't remove every sticker, badge, wing, wheels, and every other flash of red, for a stonkin' fast (455 hp) Q-ship and family truckster. "Oh this? It's just a rental. Wanna race?" 8)
Jimmy