I never get tired of driving it!
Sorry if this has been asked before.
I am looking at some wheels that look like the Mini-Lites that Parnelli Jones raced on the 1970 Boss. They asked me "how far does the caliper face extend past the mounting face?" The specs say that their 18 inch wheels have 1 3/4 inch clearance for big brakes. Is that enough?
Here is a photo of Parnelli's car: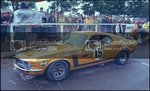 These are the wheels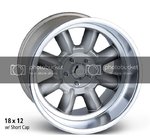 This is their website http://www.team3wheels.com/lt_iii.html
I think these wheels would look sweet on the Boss. Also, these guys seem to be able to do custom stuff in their shop.
Thanks for your help.
Brian