Drew suggested that I start a built thread of my own. To be honest with you this one will not be as awesome as Drew's build. Here goes. I got this car with the intent of having a track car only. I started with a GT track pack with Recaros. I put in a roll bar for safety and for 4 point safety harness. If I had to do it over I would not have gotten the Recaros and would have put in a 6 point safety harness first.
Here's some info on the car before I started the process of turning it into a race car.
AST4150s with Vorshlag Camber plates and (f)500lbs/(r)250lbs springs.
WhiteLine front and rear sway bars and WhiteLine Watts link.
DSS aluminum D/S
Had 3.73 gears, switched to 3.31
Boss 302 front splitter
Boss 302 brake ducts
Cobra Suzuka Pro-Fit (drivers) and Imola Pro-Fit ( passenger). As per NASA racing you have to have similar equipment for the instructors.
MGW shiter
Vorshalg custom racing exhaust
The custom racing exhaust was put on after I had an off at TWS and my magna flow exhaust was ripped off.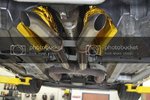 After this off I got the Boss ABS racing module so the traction control would be eliminated. This is when I decided it was time to go to the next step for safety and have a full roll cage installed.
After tear down. This is what was pulled out: