We also offer Car Show Banners/Stands like the image below:
There are several sizes, but the most common size is 24" X 46" and comes with the stand for $150 Plus shipping and Handling...
Figure roughly $25 for S/H, but it depends where its being shipped to.
Other sizes are:
24X60 - $220.00 Plus S/H
24X70 - $285.00 Plus S/H
They are printed on Vinyl Banner material with Metal Grommet holes and the stand is high impact plastic.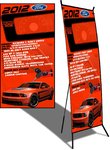 If you are interested in a custom banner/stand please contact us at
[email protected]