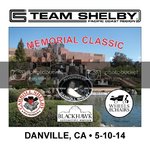 Team Shelby – Pacific Coast Region in partnership with the Blackhawk Automotive Museum http://www.blackhawkmuseum.org/ conveniently located in the SF East Bay suburb of Danville, is excited to bring this inaugural event honoring the legacy of Carroll Shelby to NorCal "Powered by Ford" enthusiasts. This memorial car show will feature Shelby, Ford GT, Cobra and Boss vehicles. Although show entry requires a nominal fee, spectator attendance is free to all. Several special guests have been invited and are expected to attend. Tim McGrane, Executive Director of the Blackhawk Museum (and a former Barrett Jackson executive) will be on hand to help judge entries and issue some neat trophies!
RSVP's and pre-payment of a donation entry fee of $30 (or more if you wish
per vehicle is required for this event so we can anticipate parking layout on the museum's photo-op perfect plaza. Entries will be limited to 40 vehicles. Please use the GoFundMe link below to facilitate this transaction. When your payment is confirmed, this will be noted on the roster below. Donated entry fees will be shared with the Carroll Shelby Foundation http://www.cscf.org/ and Wheels for Chairs http://www.blackhawkmuseum.org/w4w.html
Payment Link: http://www.gofundme.com/7vd000 - Reservations are requested by Sunday May 4th. Thanks!
So mark your calendars and post-up if you're interested in joining us with your entry - or as a spectator, for a great day at the Blackhawk Museum honoring Carroll Shelby with other "Powered by Ford" enthusiasts. Please note the year and model of your vehicle when replying so trophy categories / quantities can be determined in advance based upon expected attendance.
Note: For ease of editing, I'll maintain the list of Memorial Classic car show entries in Post #2 immediately below.
The show starts at 10am and ends at 1pm. Owners entering their vehicles in the show should arrive by 8:30am to allow adequate time for staging, and once on the plaza, will not be able to exit until sometime after 1pm. Please note that parking at one edge of the plaza is sometimes subject to overspray from the water fountains in windy conditions, although this is rare. Also, there are several restaurants in the complex to enjoy lunch at.
The Blackhawk Automotive Museum is located at 3700 Blackhawk Plaza Circle, Danville, CA 94506
Here is an aerial view of the upper plaza where the car show will take place and reserved spectator parking appears in the lower right corner https://maps.google.com/maps?q=danville+ca&ll=37.800926,-121.917591&spn=0.001406,0.002051&client=safari&oe=UTF-8&hnear=Danville,+Contra+Costa+County,+California&gl=us&t=h&z=20
Any question, please ask here or leave me a PM. We look forward to seeing you on Saturday May 10th in Danville!
Thanks,
Jim
For reference, here is the Team Shelby - Pacific Coast Region thread: http://www.teamshelby.com/forums/index.php/topic/84541-carroll-shelby-memorial-classic-blackhawk-museum-saturday-may-10-2014/