Well, I finally started working back on the car on black Friday, after taking about a month off to relax a little.
I got the MM caster/camber plates and coilovers installed Friday and Saturday, set an eyeball alignment, then tried to go for a test drive and...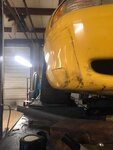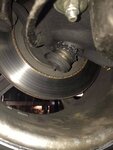 ...ended up with this.
Looking at how the stock setup works, the stock location springs push
down
on the control arms with the weight of the car as the tires push back up, pulling the top of the ball joint up. The control arm is "fixed", so that tension helps hold it in place.
Even if the car is jacked up on the control arm, the only weight the ball joint sees that makes it try to come out of the control arm is the weight of the spindle, rotor, wheel, tire, etc. Any aggressive driving would seat the balljoint even more firmly as weight is transferred. The ball joint can't "fall out", even though it could break.
With the coilover setup, putting a jack under the control arm (for example) puts the entire weight of that corner of the car onto the lower ball joint and it's pressed fit.
It appears mine simply happened when I yanked the wheel around, since I never did jack it up. The ball joints have been replaced before, so it's likely just wasn't a perfect fit.
We pulled the control arm off, pressed the one that fell out back in, I cleaned up the grease and grinded the paint away, and we tack welded it in 3 spots. Then we welded the other side in a couple spots as a preventative. I doubt they go anywhere now, but grinding the welds off would allow them to be changed in the future. They're on the list of things to swap eventually anyway.
I drove it last night and then went to get it at lunch today. Feels very planted and reacts really fast to changes in direction. I wouldn't say the ride is any rougher than it was with the Steeda springs and worn out struts. It's really hard to tell too much on the street, but I have noticed I no longer need mid corner or straight line corrections. It feels kind of weird to drive. My Focus needs the rack replaced, so it kind of "drifts" in the wind and bump steers kinda funny, and my truck drives like....well, a 1983 Ford truck lol. Both of those take some minor corrections here and there while driving, and especially going around corners. The Mustang moves instantly when you move the wheel so it's taken some recalibrating there.
I still have some things to do, but I didn't work on the car for over a month there (shame on me).
Still have:
-Strut Tower Brace
-Torque Arm (I think this will change the feel of the car again)
-Stiffler's Jacking Rail and Web Brace (subframes are on, but still need to straighten the whole pinch weld)
-Aluminum steering rack bushings
Other than that, I need to play with the tune. It still runs pretty rough when you first start it up. To get it to run well, you have to let it warm all the way up, shut it off, and restart it. From then on, it runs pretty good. But it still felt last night like the power was turning off and back on really fast. Not sure how to explain it, it would scream a little, then slack off a little suddenly, then kick back on. Really quickly, back and forth.
It felt a bit better today, though, so it's hard to pin down. We're still weighing going ahead and pulling the engine and swapping to a tamer cam and cleaning some things up while we're in there. I've had some persistent oil leaks I haven't been able to fix yet. And the wiring needs some cleaning up. That might be a good winter project, but just depends on my level of motivation and money.