I got the Mustang started last night!
I took my time and made sure everything looked decently nice and, most importantly, would work properly. I didn't want to spend a bunch of time chasing gremlins because I didn't do things right in the first place. I guess I did well enough with it, because I finally got to take it for a test drive last night to the gas station and then over to the exhaust shop this morning!
I definitely wasn't gonna choke down a 635hp engine with the old 2.5" X Pipe kit I had before. And that 2.3" flange on the header wasn't gonna cut it either. It got treated to a pair of V Band clamps on the collectors, 3" pipe with X, DynoMax Race Bullets, and turn downs. I have a pretty great exhaust guy...he's a little gruff, definitely not the go-to guy for a show car, but if you want a good, cheap exhaust, he's the man!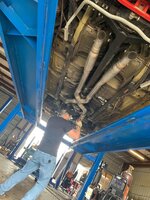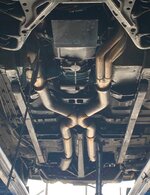 I haven't heard it yet, the exhaust guy just sent me these photos, so I may hate the way it sounds lol...but at least it ought to be a little quieter and still make good power.
The first AutoCross with this new setup is in two weeks, then its first track event is June 17 and 18! Not a ton of time to drive it and make sure all the bugs are worked out, but hopefully it's enough.