#LS-378 - So many Porsche's, so little time....
Moderator
After waiting quite a while for DBA to make the 5000 series 2 piece rotor available again (still on backlog I believe), I decided to look elsewhere for a quality 2 piece rotor. As you guys probably know, there's not much to choose from when it comes to a 2 piece system. Fellow member ChuckP turned me on the Paul Weston of Weston Motorsports (
http://www.westonmotorsports.com/
, (888)558-0631 ) who hooked me up with a set of custom made Coleman rotors that have been cryo treated by Diversified Cryogenics. Long story short I'm very happy with the obvious physical quality of the rotors as well a the fitment on the Boss. You can see form the pics these are true 'race quality' pieces. Time will tell as far as performance and longevity, but I am assuming some high marks based on how these were made and treated. Lead time on these delivered is about 2 weeks.
Also, the good news is we've reduced another 6.5 lbs per wheel unsprung weight over the stock rotors in addition to the 10 lbs lost by switching to the Enkei PF-01 wheels.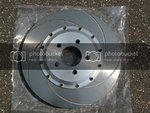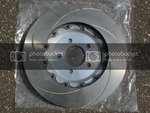 I messed up the focus on this shot. If it was better you'd be able to better see the vane design used to aid in cooling.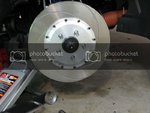 And now for my shameless plug for Pagid pads again (Sorry Gary, Rick, Ron etc, etc ;D ). Here's a pics of a used RS-29 pad front rotor with 9 track days and 37 heat cycles on them. As you can see it looks like they still have about 70% life left in them compared the new new pad on the right. Wear on the stock rotors was also marginal.