Just curious if anyone has used a different bolt and hook with their setup? My front hook is now pink and I'm not wild about all the moving parts on the Chinese sourced hooks. I've been looking at BMW hooks and may buy a set. Here's what I'm looking at:
http://www.ebay.com/itm/171774691563?_trksid=p2060353.m1438.l2649&ssPageName=STRK%3AMEBIDX%3AIT

I also like the larger nut face on this hook.
http://www.ebay.com/itm/261461516867?_trksid=p2060353.m1438.l2649&ssPageName=STRK%3AMEBIDX%3AIT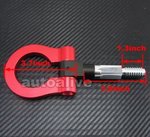 @ArizonaBOSS
@Grant 302
@Moto
@LS110