Up at Daytona running some laps with the Ferrari Race Club. Car spent Wed. at the Racers Edge shop having the coilovers installed and we did not get done to late. Had a problem with one of the rear Koni shocks off last years Boss R. It snapped at the bottom but right after we pulled out of the shop and was only going two miles an hour. Thought my weekend was over but Jon did a search and came up with replacements. The crew stayed at work until around 8pm to get the car finished for me, what an honor.
The process was long and a lot more involved then I had thought - setting up the corner weights etc - turns out the weight of my car is 3403 and not what I posted before since they added weight for driver and fuel. That is only 60 pounds more then a Grand Am car, now with the coilovers it should be closer. All of the work was worth it (for me) since the car is on rails. I mean wow, it is like a real race car and I drive with more confidence now.
Having said that I was able to turn out a few 2:07 laps, best at 2:07.2 while not great it's a respectable time here. Speed was disappointing at only 167MPH was looking for 170 or better. I will post some vids later.
While the car runs great, it will not start. I have to get some of the Ferrari guys to help me push start it for each session, thus the new name as the Flintstone car in the garage. It is a shame since I am in a garage with many expansive cars and get compliments all day long and people coming in to take pictures. I have had every part of the starting system replaced but Ford does not to help out too much with the issue it would seem.
The other major problem is the AdvancedTrac system going into error mode anytime I am near the town of Daytona, five time now. Once again this was looked at several times and some tests were done but they quickly forgot about it. I can not drive the car with the system on and in error mode it looks like it stays on full. I called a local dealer to look at it but the said they were busy. Got the idea to call Jon at Racers Edge and he had an ABS module for one of the 302R race cars, they had just switched to a new unit this year with the new 380MM brakes.
To my surprise he drove down to the track with the new module, I installed it in minutes and problem solved AdvancedTrac turned off for good. Now I can replaced to sticker on the steering wheel that reminds me to shut it off with a "go look for three guys to push start the car sticker" :
Quick vid someone took of my boss and some pics of the company this event.
http://www.youtube.com/watch?v=4NsROz9b68g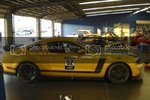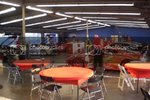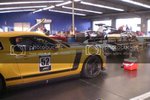 Even two GT's here, passed one ;D Some vids
http://www.youtube.com/watch?v=pfsWt0cz0Jo
http://www.youtube.com/watch?v=QG3pYbJU7AM
http://www.youtube.com/watch?v=oQefpfqf5iI