I've always had (and expected) gear noise given the way my car is setup, however it seems the noise has been getting worse and last track day it stepped up to a whole new level. I'm sure the trac-loc is well past it's serviceable life, and I've had a Boss Torsen sitting in the garage for a few months waiting to be swapped in. With the increased noise, no time like the present to see what's going on.
Here's the first sign of what's in store: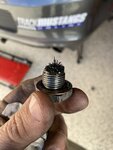 Based on the amount of metal on the plug, I expected the gears would be in tough shape. Surprisingly the ring gear looked really good, with no irregular wear pattern that I could see. Backlash checked out at 0.013", just barely outside the 0.008 - 0.012" spec.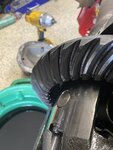 Carrier bearing preload seemed fine, as it took a bit of prying to get the diff out of the housing. I set that aside, and moved on to check preload on the pinion shaft. No issues there - preload measures at just over 10 in. lbs. in both directions, and the pinion spins smoothly with no strange sounds or feel. Moved on to closer inspection of the carrier bearings - which turned out to be our trouble spot: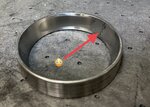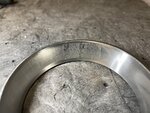 No wonder it was making noise! There's a rectangular spot on the race where the metal was breaking down, and noticeable wear patterns to each side. It also appears the race spun a slight amount inside of the housing - there's faint lines on the race and also inside the caps and housing, however it didn't score any of the surfaces. The trac-loc diff is now junk, as the inner sleeve of the press-fit roller bearing spins by hand. It appears it machined a ring around the end, otherwise the bearing would just pull off.
So here's my questions - should I be concerned with the carrier bearing landings because the race spun? I've heard of Ford scrapping the entire housing on warranty repairs because of a spun bearing, however couldn't find any threads here on TMO where anyone has dealt with a failed carrier bearing. Plans are to go back together with the Torsen, new Ford Performance ring & pinion set, and all new bearings including the wheel ends, but wondering now about the housing. Send it, or start shopping??