Just finished install of Diff Breather and cooler:
Remove Diff cover and Drill/Re Tap for Temp sensor: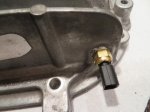 Remove Breather and 1/2" plugs, replace with hose fiitings:
Use a bead of Silicon gasket and re-install Diff Cover:
Mount Vent to inside Wheel Arch and Cooler (with Fan) to Floor Pan:
Mount Pump in Spare wheel well:
Hoses:
Lower fitting goes to cooler, upper fitting to pump outlet, to keep pump fluid temps cooler.
Wiring:
I'm using an Aerometer gauge to trigger pump and cooler fan at 230 F.
Mounted relay and manual toggle switch (to prime/drain diff fluid when I change fluid) in rear wheel well (attached to rear mounted battery box).
Ran 2 wires to Smart junction box for relay trigger (3 amp add a fuse) and power (15 amp add a fuse).
Last edited: