An Aussie living in the States
20
32
Exp. Type

HPDE
Exp. Level

10-20 Years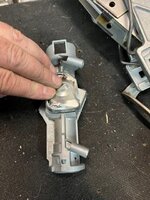 Ok lets do a quick write up on removing the steering lock..
Firstly, my adj part of the column was removed to complete this job .. not sure if it can be done in the car but anything is possible .. Here we go
Remove the ing lock and the electric connector from the lock unit .. its easy to do ...
flip the colom upside down an you will see the factory tamper proof bolts ..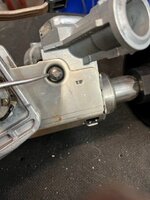 remove these bolts , mine came out with a vise grip ....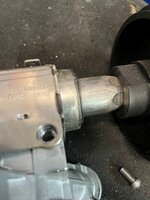 once the bolts are removed the unit will slide off push toward the hub end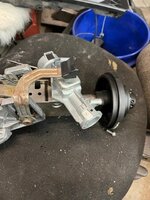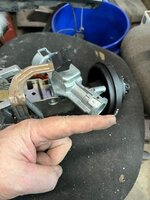 Flip the unit over once removed to see the lock ,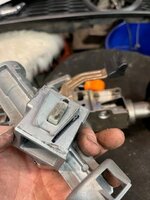 this is what we need to remove , Flip unit back over to see the cap that needs to come off my fingers are holdin it on ...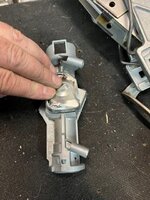 Now at this point you could just drill a hole in the cap to remove the spring that applies pressure on the lock .. and reinstall the unit , but i went all the way to remove it .. follow along..
Once the cap is removed, i just grounded the edges of the cap so i could remove it all the way , NOTE !!!! the small pins you see around the cap do not go all the way through so do not try and punch them out...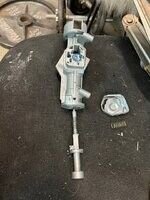 We need to get this portion of the lock off circled in blue, it is held in with a spring and pin, I was able to jus pull out the rotating shaft and the lock assy came right out, you can see the rotating shaft in the lower part of the pic..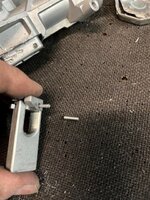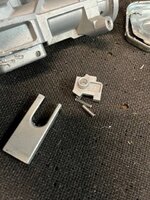 Here is the lock assy removed...
Now you just reassemble the shaft , lock cylinder and electric componenent and its ready to go back on the colom lock free and with the key function in tack..
to reassemble you will need 2 M8 1.25 x 12mm long screws or bolts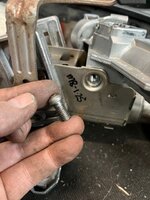 And there you have it...
Barry