To see EBC's pad & disc/rotor recommendations, just let us know what & how you drive, then leave the rest to us.
The below link will take you to our interactive Brake Selector Tool, where basic questions on your car or motorcycle and driving style will determine the best recommendation for you. There will then be a
'Where to Buy'
and
'More Info'
tab to find local dealers and details on each product.
Get started with the EBC Brakes Selector Tool HERE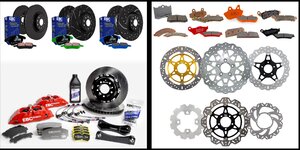 * EBC Ultimax, Greenstuff, Yellowstuff, and Bluestuff pads are now fully R90 approved and legal for street use, RP and SR Series are not road legal in UK & EU. In non-EU countries this has no relevance.
Head directly to our USA or UK/EU supplier through the link in our signature, and get 10% off with discount code FORUM10USER