6,370
7,863
Exp. Type

W2W Racing
Exp. Level

20+ Years
I have been asked to start a build thread for my little project pony.
Its probably a little different than what you might expect to see in a track car, but it's because of the route that took me here that made it what it is. Different.
It's not a Boss or a GT 350 or even a GT 500. It's just a plain old vanilla Mustang GT.
It all started out very innocently, with a delivery from Ford. A new
Mustang GT Premium in white.
It didn't take very long for the mod bug to bite and by the end of the week she had started to see some changes.
A lowering kit, tires and a tint job graced this simple yet elegant canvas.

I thought I was through, but boy was I wrong....
So how did we get from there to HERE: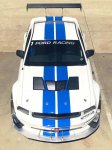 I'll try to bring us up to speed as quickly as possible.
(Pun Intended)
Last edited: