Hey guys,
I'm selling my coilover set that I was originally planning on installing onto my LS, however I'm planning on going another route.
These were purchased from a forum member on here and sent to J J at Upspeed to have them inspected, built, and revalved, invoice is available as well. I have not used them since I had them serviced.
Tuned Up Service: Upgraded Performance Valving Revalved & Precision Built New Low Friction Seals New Maxima Oil New Shims Documented Adjustment Settings Dyno Tested & Matched
JRi Double Adjustable Mustang Strut Shaft Assembly -
JRi HSRD/Double Adjustable Preload Cage
JRI-13209213 JRI Radial/Linear Piston Assembly
Price-$3,000 obo located in socal- willing to meet up as well.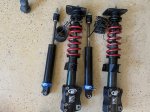 Last edited: