RACE RECAP:
Wild Horse Pass Motorsports Park East Track 1/15-16/22
---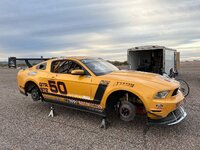 After finishing last year with a few kinda crappy race showings (making heavy leverage of the "starters get points" rules to close out the championship ) I wanted to have an opportunity to try and race. I've been in a slightly different role at work that pays significantly more, but I hadn't started to realize the difference so I was still very cash-poor going into this race. I ran on scrubs that were handed down twice - basically every session I was cording a tire and was about 1.4 seconds behind my best times at this track despite the great weather. That said, the track was also very dusty and covered in runoff aggregate which complicated matters (or added some additional color to "cowboy exits"). Typical for me - I wasn't able to take the Friday off before the event so I showed up Saturday morning not fully prepared. After some argument with a neighbor, I moved to nearly the gate entry as far away from the paddock and grid as once could be. Not the start I wanted to the weekend- but sleeves were rolled up.

I made the warmup session on Saturday and not much to report, qualifying went alright as I was focusing on running older tires (4th overall). I did find that I was nearly out of brake pad, and the box of pads I brought to the track weren't the right ones (two sets of used pads which felt like the right weight - next time I'll label boxes). So after some careful shuffling of pads to get the most out of what I had, I was set to race.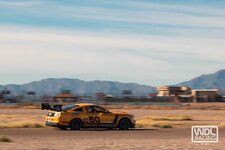 The race was somewhat eventful - we had a number of spec miata cars "supersize" to ST6 and join the race (11 cars!) to make our total car count 27 which is great for the smaller AZ region and arguably is a lot of cars for a 1mi track. As the race kicked off, I found myself 4th place chasing Ken Orgeron (BMW M3, ST3), Tage Evanson (Honda Civic, ST2) and Alex Petitdemage (Spec Ford, ST3). I didn't quite have the pace but I was able to keep with them, however after a few incidents we had some unusual yellow flag situations. We had a standing yellow flag for a errand corvette become a waving one, followed by another waving flag at the next station become a full course caution. The first 3 cars all made passes between these stations, with Tage very nearly completing the pass against lap traffic right at the station (which is legal if you could made it, having passed the incident but before the next waving station). Ken wasn't as lucky as his pass was under the full course caution (and ultimately didn't impact him as a battery issue took him out of the race later) but Alex made a couple more passes under full course caution which requires a reposition to last. That's a shame as he had a hell of a drive and usually isn't found ahead of me.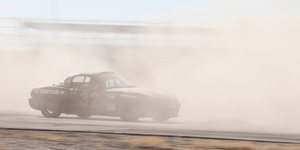 During the full course caution I was behind the miatas that the other folk had passed, and unfortunately one of the cars slowed and broke, which opened a wide gap between me and the 3 cars ahead. Once back to racing, that gap was too much to claw at with little time remaining. One last quirk was that a car crossed in front of me on the hot track, going from outside to the infield - I'll post video soon but it was a pucker moment and just was not what you expect to see in a race without some sort of flag or warning. I'd argue (and did argue) that as an organization we didn't run a smooth race with flagging and safety vehicles doing odd things, but the end result was that due to the DQ (waving yellow pass) and the two repositions - I was now first overall and in class. Sometimes winning is about doing the right things and being aware of what's going on. I'll get the video of that race soon, the race director has my memory card as he's still reviewing all the incidents.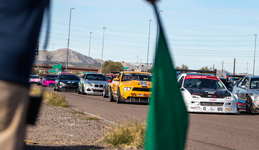 Sunday I missed practice as we were still sorting out issues from the previous day's race - having to work with the race director and the rules book to ensure we gave everyone a fair shake (as I'm still the super touring director - which I'm not responsible for on-track behavior, but I am consulted for stuff like this)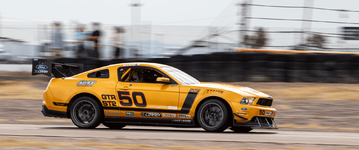 Qual I did get some new pads put on the car (right ones this time, some custom "extra thiccccc" GLOC R18's from
@OPMustang Tim
that barely fit but work awesome).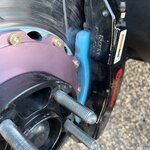 I found myself 3rd overall with the times being very close (I ran on corded tires from the previous day, just thought I'd challenge myself to run sub 1:00.000 on them- and did despite a hell of a sideways entry onto the straight. I'll also get video soon there, I wish I hadn't gone in so hot as getting that right would have put me on pole or at least the front row:

Stage was set however and these 4 cars (on another 22 car field) all had a shot at the lead in a very wild race. Immediately in chase of Ken and Tage, who were battling it out for the first 3rd of the race - finally Ken was pushed a bit wide by lap traffic and he had to let me by to get my swing at Tage. I followed for a while, finding I was able to easily outbrake the lead car - however I made an error down the straight in trying a late dive bomb that sent me off track (there's a safe abort area I knew about and took). I was just a bit late on the initial deceleration and off-line did not have nearly the grip I had hoped for. I recovered quickly, and despite losing a few spots, a full course caution set the stage and once we restarted the combination of a great launch by me and the lead cars trying a 3-wide entry into the first corner led me right back into the mix: a couple laps later I found myself moved up to 2nd overall and 1st in class, crossing the checker. The video is wild:
This is a great start to the regional championship - I wasn't planning on going after it again but its certainly a possibility now with a couple great performances to set the stage. The real target is to race at the national championships at Weathertech Raceway Laguna Seca in September. I'm working on getting the budget together and hopefully find some support along the way!
Last edited: