So a buddy has a 7.5 diff that will be getting a 3.73 ring and pinion. The 7.5 is a close relative to the 8.8, so the procedure will be essentially the same. The little 7.5 was around until 1992 ish in the Gt and works well with engines up to about 350HP.
Since Ford Performance no longer makes gears for this diff, I was forced to go aftermarket with a Yukon gear ring and pinion, plus an install kit. I always prefer the FP stuff for reasons that will become apparent shortly.
I made a tool for this project, which can be found here:
https://trackmustangsonline.com/threads/pinion-depth-tool.18044/#post-269780
and will be using ti to install the new parts.
First off, the diff was removed from the car so I could work on it easier, this is not the only way to do this, but with my back issues, it was the simplest way to negotiate the gear change.
A cursory check of the pinion depth was done, it was 2.311.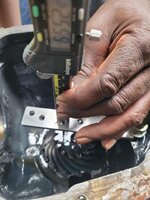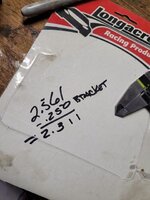 At this point I read, ( or rather tried to read) the pinion depth on the new gear..
it looks like 1.709.. or something, which was seriously.. very very weird.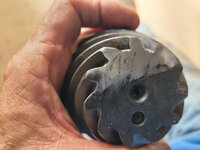 So, with that, I called Yukon gear to see if they could shed any light on the problem, what I got was, "use a .025 shim and it should be close".. not really enamored with that answer, since this means I'll be chasing the gear pattern, which means I'll be taking this apart a couple of thousand times to change the pinion shims.
Which leads to outlaw mod #1
Since installing the inner pinion bearing several times over means there is a very real possibility of damaging the bearing due to it's pressed fit, and.. I don't live in an area where parts are easily obtained if this should happen, so.. I talked to a dragster friend of mine who suggested that I sand down the pinion in order to make the bearing a slide on, rather than a press fit. Although, I've heard of this, I've never actually done it, and have actually recommended AGAINST it, but he was adamant that it would work without issue as long as I didn't get too aggressive in removing the material. So, a few laps in the lathe with 80 grit sandpaper, and we now have a slip fit where the press fit used to be. It is still difficult to get on, it really has to be dead straight, but it will slide on. So off we go, hoping this will turn out well.
Sometimes you have to take the bull by the tail, and face the situation..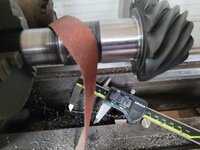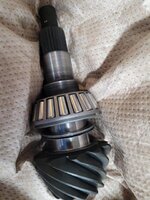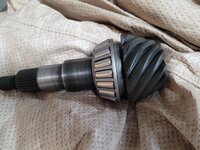 So, the diff was cleaned up and prepped for the next installment, I also noticed one of the bushings trying to escape, that I will have to fix.