Chris
Staff member
Moderator
1,210
1,239
Exp. Type

HPDE
Exp. Level

5-10 Years
We worked a deal for TMO members to get you bonus tickets when you enter to win the the 2021 Mustang Dream Giveaway. As they usual, they're giving away a brand new Mach 1 and a vintage Mach 1 together, plus cash for taxes. We're posting the link with the embedded code below, viewable only to logged in members. If you're not a TMO forum member, register an account you you'll be able to grab the code below. Please do not share this link outside of the forum (not even in our FB group). This is meant to be a reward for those members who participate here.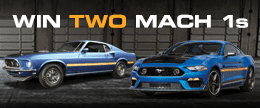 Link with Promo Code:
Login to see the hidden content
Imagine having this pair of Mustangs inside your garage! You can enter now to win BOTH Mach 1s through the Mustang Dream Giveaway. Go to Login to see the hidden content and you'll get DOUBLE bonus tickets with any donation of $25 or more!
Hope we see a TMO member take these cars home! Good luck everyone.