Owner / Lead Instructor / Driver Coach
Join Track Guys at any of our 2013 driver's schools. You've read about us in Muscle Mustangs & Fast Fords, 5.0 Mustang & Super Fords and others - so what are you waiting for?
We run a four group format so that everyone drives in a group with participants of similar experience and skills.
Group 1 - Beginner
Group 2 - Novice
Group 3 - Intermediate
Group 4 - Advanced + Instructors
We specialize in getting first-time and novice drivers up to speed in a fun, safe and educational manner. Our dedicated group of lap-happy in-car instructors take pride in making sure their students are up to speed with the "rules of the track" as well as the "laws of Newton". And don't worry - there's PLENTY of track time for the Intermediate and Advanced driver's as well.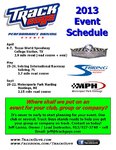 Register online at: http://www.trackguys.motorsportreg.com
Yes, a few of our students and instructors run Boss 302 Mustangs... And the Boss 302S fly-bys are pretty cool, too...
[youtube]http://youtu.be/3cJ0y_bsvrA[/youtube]
Check out our website for more information or drop me an email: http://www.trackguys.com
We hope to see you on track with us in 2013.
Jeff Lacina
Owner / Lead Instructor
Track Guys Performance Driving Events
2012 One Lap of America SSGT2 Big Bore Class Champion