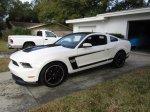 Trying to keep it simple, as don't plan on beating the crap out of the car; just bought a 2012 Boss 302 (performance white) with 17,000 miles... seems as if the previous owner babied it, so I want to keep doing so, but I do want to continue running track days with NASA.
Car has a Torsen and track key. As per recommended in the Boss 302 owner's book, I've ordered the trans cooler, but as I couldn't find the Ford front brake cooling ducts, I ordered the duct kit from Blowfish (looks to be about as good). The owner's book seems to imply the OEM brake pads (as installed) are up to track work... are they, or should they be changed out?
I have a second set of Boss wheels, and I intend to use the rear wheels from that second set on the front to square it up; what are good road/track tires with good water channeling? What is the preferred size? The only track I drive at is Sebring, and as there can be a lot of standing water on the track at times, I'd rather have a tire that has good wet characteristics than an all-out dry tire... plus I intend to drive to and from the track.
Any recommendations would be appreciated; thanks!