Hey all.
Caliperfexion is run and maintained by my lovely wife, Patti. Her background runs the gamut. The stud concept was a natural for her as after all, she married me.
The latest brainstorm was a sleeve (or stud extension) that in essence elongates the stud, temporarily. This mimics the elongated bolts shown earlier in this thread, as well as in the factory service manual. From concept to prototype, George at MGW was there all the way. The images that follow show his handiwork, 100%.
Sleeves come packaged in pairs.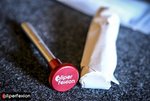 After unpacking, remove the set screw from each end with a 1/4" Allen or hex key. The set screws are to protect the threads and should be reinstalled when you are done using the sleeves.
Remove the 9/16" twelve point ARP nuts/washers from the end of the studs (remember, the sleeves only work for those that have installed Caliperfexion caliper studs in stainless or 4340).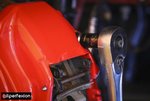 Thread each one of the sleeves onto the now exposed threads of the studs. Hand tighten until each sleeve bottoms out.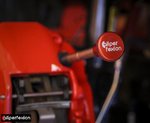 If you didn't already unseat the brake pad guide pins, now is the time to do so,
before
you slide the caliper outward.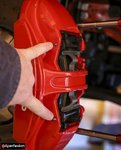 You can now easily slide the caliper towards the rear of the car.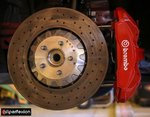 The rotor can be removed without obstruction as well, allowing even greater access to the inside of the caliper.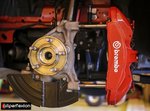 Any prying or tapping should be done with the caliper slid back up against the knuckle. Be smart about their use and they will reward the user with a long and healthy life. Be sure to keep both the internal sleeve threads clean as well as those on the end of the stud.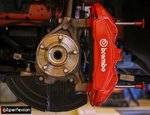 Once pad work is complete, reinstall everything and torque the ARP nuts to spec.
Sleeves are $45, shipped and should be available as soon as the boss gets everything in line.
Last edited: