I had bought a set of MM camber plates that I was planning to install. However it turns out that there's an alternative. Ford sells service bolts that are smooth and a slightly smaller diameter than the splined OE bolts: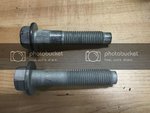 I used a micrometer to measure them today -- the service bolt is 0.4mm smaller.
Here are the part numbers. Bolt: W715295-S439 Nut: W520216-S441
@cloud9
The service nut is Nylock, unlike the OE nut
I plan to install once I've finished the 1,000 mile Break-in -- 185 miles to go!