First off refer to: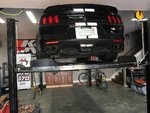 So it looks like Ford has indeed changed the filter design on the GT350. Mine is a March 2017 build and has the new design. Since I cant find any documentation on this thought I would do a write up of the oil change procedure.Tool/Supplies Needed: -10qts of your favorite 5w50 Synthetic. I...

trackmustangsonline.com
@j3st3r
post is perfect for the how to's, and processes
I'm posting my version if you don't have a lift available. I found that just 2 clicks up on the jacks allowed me access to oil pan plug and access door. What I found difficult, was the canister filter itself, so I took off the driver side wheel, and its just tucked behind some of the wheel liner plastic. The access door is still important as that's the one place where you can make a total mess when the filter is removed, so the wheel access itself isn't enough.
**now the bs part of my post.. I'm having cervical 7 neck issues where my dominant hand and entire arm goes numb instantaneously when I'm laying down and trying to work on my back. So wether or not that was my difficulty in getting the canister filter out or not, I was able to remove the factory canister and torque the 120lbs on the (new) MMR canister cover and think the 5-7 min wheel removal/install is worth it.
.