Well, it all starts with a problem. For a while now many of the GT350R owners switching to aftermarket wheels found themselves dealing with the extended front studs protruding out much further than the rear studs. For the R It all stems from the pad used on the OEM Carbon Fiber wheel. The pad is much thicker up front and takes up the space from the extended stud. All aftermarket wheels use a thinner pad, so this is an issue for any R owner switching away from the OEM wheel. This also happens with GT350/S550 owners running extended front studs. When you swap to an aftermarket wheel, that stud requires you to run an open-ended lug nut. The end result is front and rear lug nuts that no longer sit at the same depth as OEM. For many it is aesthetically unappealing, and causes difficulty finding a lug nut to run front and rear. With the OEM wheel you can run the same size lug nuts front to rear, and they seat at the same depth. Currently there is no option on the market to fix this issue.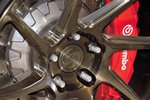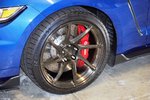 Since I started with Signature Wheel I have had several customers asking about lug nut options for the extended studs on the R. Specifically a gentleman with a Shadow Black GT350R back east, who found this as a make or break problem. I told him I would develop a solution that would make him happy as a customer, and hopefully benefit other enthusiasts in the process. The only options till now were to buy new GT350 hubs with standard length studs, or not buy wheels at all. All of this leads me to now. The goal around this endeavor is to have front and rear lug nuts that seat at the same depth for those running extended front studs on a GT350R/GT350/S550 and our Signature Wheel.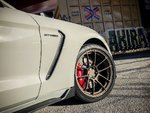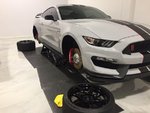 I reached out to George at MGW and explained what I wanted to achieve. His abilities to work with CAD and a CNC machine are unmatched in my opinion. I also know is level of craftsmanship is something that I can stand behind after using his shifters. After a few discussions and several measurements MGW sent me some prototypes to share. Built to the OEM conical seat specs and will fit like OEM. These are currently built from aluminum for test fitting and the final product will be made from heat treated steel. Plating/coating options are still in the works.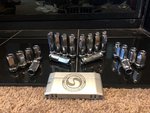 There are two style options with rolled and tapered ends. The rolled and tapered ends are to designed to assist with sliding the socket onto the lug nut, and not dinging up the ends. The hex portion is easily accessible to any socket to provide adequate bite and alleviate the need for specialty deep sockets that could mar up the lug nut hole on your wheel. The load being placed at the end of the hex on the front lug nuts will not cause any issues to the metal at the torque figures being used. There is no locking option available.
Tapered Ends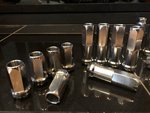 Rolled Ends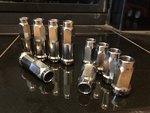 This is the very first test fitting and it's pretty much spot on. The lug nut measurements are designed around the drop cup center found on our Signature Wheels, but they may suffice on other brands as well. As you can see the lug nuts now sit at the same depth front to rear without the exposed stud. You almost cant tell which wheel is the front or rear, and it looks much more "finished." The lug nuts will remain open ended, but production pieces will be shortened a few mm to be even with the stud and provide a "closed" look.
Rolled Ends Front/Rear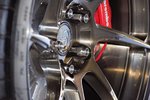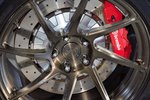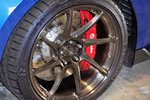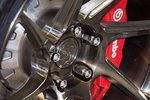 Tapered Ends Front/Rear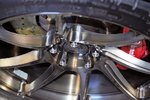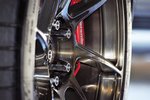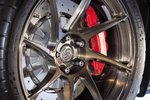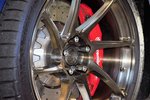 Let me know who is interested and what you think as I move forward with ordering these for a few of our existing customers, as well as myself. Pricing wise I want to stay in the $250 range. The shorter versions will also work on all four corners with standard length studs, so something for everyone. These will not work on aftermarket wheels that do not fit an OEM sized lug nut. Hopefully it benefits many of you running aftermarket wheels as well. I am committed to finding solutions to problems we all have, and I bring that into all of my customer dealings through Signature Wheel. If there is an issue or problem, we are open to engineering a solution.
Again, thanks to MGW and
@Tob
for the help.