Hi Guys
I have a problem!
I took the boss to the track for the first time with 600miles on the clock
I started the session with the stock suspension set up and then decided to up to setting 3 for my next run to see the difference.
I started at the back firs and adjusted the right side no problem then went to adjust the left side and found that the screwdriver just spun at the top. As i fiddled to get into the slot, the red cap came of in my hand.
When i examined the red cap it has a suare lug that should go into the square slot on the damper only on mine its not square, see pics below
right side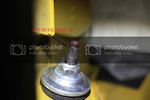 left side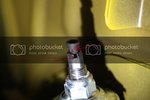 So now i have the cap in my hand and cant put it back, i cant see how it was fitted in the first place