Not having a homelink in the Boss was a bummer, so I took it upon myself to integrate one.
Picked one off ebay for $35, a little time, some JB Weld and presto, Homelink in your Boss.....
I decided to put the homelink under the steering wheel kick panel.
Start by popping off the plastic panel under the steering wheel, there are 2 bolts and then just pull off the panel, it's held in by clips.
You will have to measure placement of the homelink on the plastic panel and then transfer those measurements over to the metal panel that is behind the plastic panel you just removed.
Trim the metal panel and a small portion of the dash.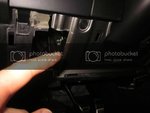 Mark and measure the holes for the buttons to pass through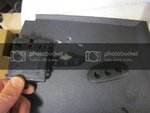 Trim the back of the panel so the homelink will sit flush, use the JB Weld to hold in place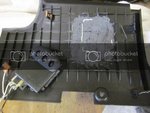 You will need to build up the little nipples on the end of the buttons, so I built it up with some JB Weld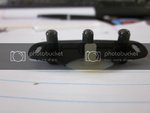 Here is where to get a ground and 12v wire, I wanted power all the time so this is the wire I used.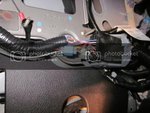 You will use the JB Weld to hold all the pieces together as the top piece won't snap into the homelink from the thickness of the plastic panel that I drilled through.
Final view: