Dealt with Michael H. at Hotchkis who was very helpful.
Got all their parts except for springs which are stock. So I have Sway bars, Panhard bar, Rear Trailing Arms, X Brace and side frame braces. Sways are set to the firmest in the rear and medium up front.
To start I did a little canyon drive yesterday and immediately knew that car had changed quite a bit. Today I went to Willow Springs (Big Willow). Went to Buttonwillow a month ago. The car is MUCH FLATTER as in body roll has been reduced a lot. Mid Turn there was understeer before and now the car is much better balanced and could go into oversteer, nothing fast as in not a snap from one to the other but was very smooth and controllable. There was more feedback, especially from the rear end, you can really tell its been stiffened up. But the cool thing is around town its the same as the shocks and springs are stock, only warning is that you can hear some noise from the rear end from the bushings. My front left tire tread ended up tearing off so had to stop halfway, the track has a lot of fast right hand turns, I lowered the pressure to 29 cold but the tire just couldnt hold up.
So in my opinion they sell a great package that is well worth it. And it wont break the bank!
Drove a Boxster Spyder which was a dream, I heard a symphony playing as I drove it. The car is a scalpel, precise, light, nimble, brakes had amazing pedal feel and stopping power. I almost wish I didnt drive it as it made me want one.
Video - 1 Lap Using Harry's Lap Timer Pro on Iphone 4s
http://www.youtube.com/watch?v=86Cbmtis3iU
Boxster Spyder
Buddy drifting his M3...lost it here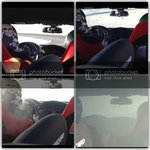 My Car