Hey guys,
Bringing the conversation from Facebook to here. I think this is a better platform for discussion
I 'm adding aero components to my car.
1. SPLITTER :3"FROM THE GROUND , 6" Wider than OEM bumper
2. better Central hood vents ( with the side vents I Have we are talking about 40 lbs DF at 100mph)
3.double fender vents.
4. possible front diffuser ( need to verify clearance first).
So HOW to determine how much DF you generate and HOW stiffer the spring should be?
in this video AJ did a great job explaining some basic numbers.
based on it I did some math.
my current spring rates on my coilovers are 500/600
front left weight is 1104lbs . so unsprung weight is 100lbs ish ( wheel tire rotors calipers and some extra stuff) .so I did 1000lbs/500(spring rate) = 2" of compression.
so assuming 100-150lbs each side of DF ( 200-300 lbs front DF total ) . we should talk abut 20% stiffer spring to maintain the same compression . so 600. ( this is btw 1.85 " and 2.08' depending if 100 or 150lbs of DF each corner) . 20% in the rear will be around 750.
PS.I bought the APR 250 wing to keep the balance neutral.
SECOND QUESTION
Semi flat floor. does it help a little , a lot, nothing at all? in other words, is it worth it?
What you guys think about it?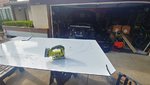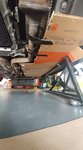 Last edited: