(This writeup is still in progress!!)
How to install, connect to, and bleed 2005-2009 ABS modules on SN95, New Edge, and fox body Mustangs, whether you currently have ABS or not.
I couldn't find a fully comprehensive guide online for exactly what I was doing so I thought I'd make this and share it for those who may want to do the same thing in the future. Fox body mustangs will most likely require 94/95 spindles, but that's for you to figure out as I'm documenting what I did for my 2000. All pictures can be found here:
This guide applies to ABS modules from 2005-2009 mustangs, namely the following:
M-2353-A - Ford Racing FR500S ABS Module
7R3Z-2C215-C - 07-09 GT500 ABS Module
The modules from the 2010 plus mustangs will not work as they require steering input/etc while the 05-09 do not. This includes modules starting with M-2325-B and M-2353-C as they were made for the BOSS 302's.
I'll be referencing information from these forum posts, I reposted the pics to make sure they're not lost in the future:
https://community.drivenasa.com/topic/46617-repost-of-quotford-racing-abs-installationquot/
http://www.johngeorgeracing.com/wordpress/2015/12/28/2015absinstallation/
https://trackmustangsonline.com/threads/gt500-abs-control-unit.16746/
https://community.drivenasa.com/topic/33926-fr500s-abs/
https://www.stromtrooper.com/threads/i-made-an-abs-triggering-flushing-device.427711/
GT500 vs FR500S
Just some basic information about the GT500 and FR500S modules, each module will work best if you match the size calipers/rotors as the cars they came from, but you may be able to get good results if you match the brake bias. The FR500S modules are optimized for slicks/the tires used on the FR500S cars, so if you're not racing on slicks you may want to just stick with the GT500 module, otherwise the module may do more harm than good. The GT500 ABS module is better optimized and more aggressive than the V6/GT models.
Parts you will need to install the ABS module:
M-2353-A or 7R3Z-2C215-C
WPT-1356 - ABS module pigtail
BRAB291 - Front wheel speed sensor (x2)
BRAN290 - Rear wheel speed sensor (x2, unless using IRS)
If you are using an IRS, you can use this sensor but you will need to make brackets: ALS1874 - IRS abs sensor x2 (currently testing)
S1021 - Wheel speed sensor pigtail (x4 unless you had abs)
Wheel hub with reluctor ring if your car did not come with ABS (I used the Timken replacement)
Parts you will need to connect to the ABS module to bleed it (if your car is not a 05-09 mustang)
Female OBDII pigtail
OHP ELMconfig ELM327 - Wiring harness to connect to FORScan and the OBD
½ Watt 120 OHM resistor
FORScan (you do not need a license)
Any 2005-2009 Mustang profile on FORScan
Wiring the module
You will need to move a few pins in the pigtail but it's relatively easy, just be gentle to the connectors and make sure it matches the below diagrams.
I wired pin 32 (active in run/start) to a switch on the dash so I can completely turn ABS off when desired. make sure you use a 10 amp fuse on pin 32, a 40 amp fuse on pin 31, and a 30 amp fuse on pin 2.
From what I could tell,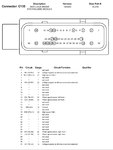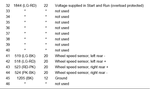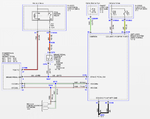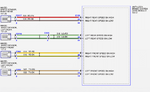 Installing wheel speed sensors
To install the wheel speed sensor in 99-04 spindles, you will need to re-drill and drill and tap them so they will be clocked correctly.
In the rear you will need to drill/tap as well, one user " found it easier to just remove the axles from the car and remove the caliper mounting plates from the axle and drill on a drill press".
For IRS, you'll need to make an L shaped bracket that will hold the sensor just above the reluctor ring.
Wheel speed sensors 2005+ are different than the sensors on older Mustangs. Older mustangs sensors produce voltage as the reluctor ring spins while the newer sensors are given a constant voltage from the ABS unit.
Plumbing the module
Stock ABS lines from the 99-04 mustangs will work just fine with adapters for the inlets into the ABS module while the rear plug right up without any adapters.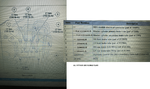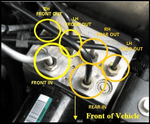 Wiring the sensors
I'm working on figuring out which wire on the pigtail is positive and which is negative. I'll modify the post once I find out.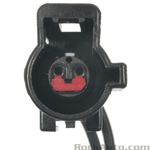 Connecting to and bleeding the ABS module
You will need to connect the following pins up to the OBD2 sensor
4 - Ground
5 - Ground
6 - CAN High +
14 - CAN Low -
16 - 12V
When setting up FORSan, I was able to get a profile from FORScan support, but they requested I don't share it or post it..but, what I learned from testing their profile is as long as you can get a profile from any 05-09 mustang, you'll be able to load it and connect to any abs module from the 05-09 mustangs without issue. If anyone would like to share a profile from their 05-09 mustang, I'd be happy to post it so others can use it to bleed their module.
When connecting the ABS module to high speed can, you will need a 120 OHM resistor wired across the CAN + and CAN - wires as shown. The resistor orientation does not matter.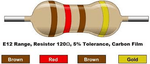 (120 OHM resistor)
Connect the CAN + and CAN - wires to the OBD adapter (pins 6 and 14), connect pins 4 and 5 to ground, and connect pin 16 to 12V.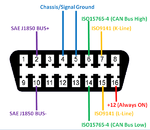 Connect the ELM adapter to your computer
Open FORScan, click the gear icon and then click on the Connections tab. Make sure the Connection options match this (if using the OHP ELMconfig ELM327 adapter)
Click on the car icon (Vehicle and interface information) and click "Connect to vehicle" (bottom left button). Select the profile for the 05-09 mustang and then wait for FORScan to finish loading all modules.
Once FORScan is done loading, click on the wrench icon (Service functions), select "ABS Service Bleed" and click the play button.
A warning will pop up letting you know to use the service manual for this...click OK.
On the next pop up it will tell you to depress the brake pedal and hold, which is a two person job, but I use a Motive Power Pressure Brake Bleeder. So, when you click OK, just open the bleeder screw and allow the fluid to be pushed out but close it just before the percentage bar completes.
Repeat this for each wheel and finish bleeding the lines normally and you should be good to go!
I'll be editing and adding more as I continue through the process, but feel free to ask questions!
No, I am not selling any ABS units.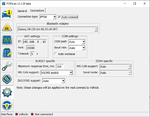 Last edited: