A quick but important maintenance item, especially for those of us with 3 seasons of tracking on the OEM parts.
First jack up the front and remove wheels, remove brake caliper and rotor, secure rotor by hanging with wire to prevent brake hose damage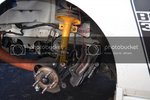 Remove dust cap, Ford says to discard but I used a 1/14" gasket scraper and worked around the edge to pop it off without damage.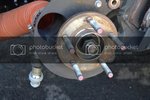 Using 35 mm deep socket and 3/4" drive torque wrench or breaker bar, remove center hub nut. It is tight at 251 ft/lbs.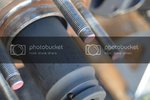 Once nut is removed the hub pulls right off, I noticed a thin film of grease on the spindle but no signs of failure or damage.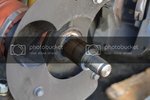 After cleaning the surface with brake kleen and paper towels, I applied a thin film of Liquid Wrench dry film lube to prevent any corrosion.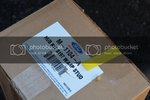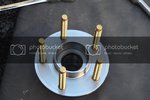 I then placed the new hub on the spindle, making sure it was all the way on and started the supplied new nut by hand.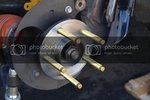 Torque the nut to 251 ft/lbs and reinstall the dust cap with a rubber mallet.
Reinstall rotor and caliper tighten caliper bolts to 85 ft/lbs with a little blue locktite.
Repeat on other side and you are done. Total time 1 hour.
Steve