So after plenty of trial and error, researching methods, and physically washing cars and swirl checking, Justin and myself have come up with what we consider the safest most effective method for washing the cars.
Benefits of the J&FoW Method:
We consider it to be the safest to prevent swirls
Can be done anywhere without a hose.
Fast
Simple
I am strictly an Optimum No Rinse washer now with this method, to be called ONR from here on out.
This is Optimum No Rinse. It has multiple uses and makes a TON of product. I use it for this method, waterless washing, and clay lube.
You can purchase it here. http://www.autogeek.net/opnoriwash12.html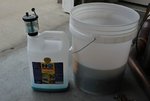 Step One: Pre-Soak
I use a backpack sprayer that holds 4 gallons. I fill this with my ONR solution and use it to pre-soak the car and wash off any excess dirt. If you don't have a sprayer like this you can use a spray bottle it will just take longer.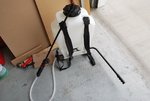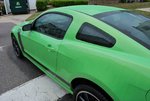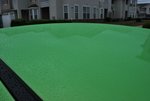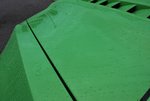 Step Two: Wash Solution
You only need 2 oz of ONR for 4 gallons of water. I fill my bucket to 3.5 gallons and it has a grit guard at the bottom. Then fold and fill your bucket and solution with about 7-10 quality MF towels of your choice.
I use these: http://www.chemicalguys.com/ProductDetails.asp?ProductCode=MIC_506_01
These are exclusively my wash towels. They hold a ton of water, are cheap so I can buy a ton and have a long nap and short nap side.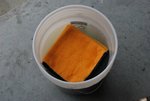 Step Three: Washing
Now that the car is pre-soaked and you have the majority of the heavier dirt lubricated and running off, it's time to wash the car. I take one of my towels out folded into a square on the longer nap side. Pull it out of the bucket soaking with ONR solution and gently wash a panel. I start with the roof and the A-Pillar rails from where it touches the fender back past the quarter window.
You want to GENTLY drag the towel across the surface. I'm basically holding the towel up so it's just touching the paint and the weight of the MF towel is doing the work for you.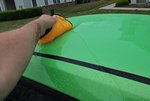 Do one side of the roof then FLIP the towel over and do the other.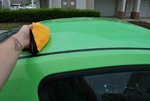 Dirt from one panel: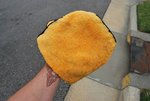 Step Four: Drying the Panel
After this you wring the towel out, open it up and fold it the same way but opposite side so the SHORT nap side is showing. The towel is damp but not wet since you wrung it out good. MF towels absorb water better when they're damp.
Apply the same process of the wash but go over the panel and dry all the excess water.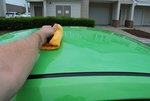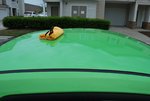 At this point the towel is done and will not be used for anything except glass. It goes in the HAMPER, do NOT put it back in the wash solution bucket for any reason. I was washing the car away from the hamper so the towel goes on the side of the bucket.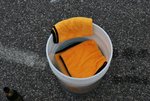 This drying will remove nearly all the water but will not do a buff dry, so if you're in the sun you could get some spotting. From here you can follow with a dry waffle weave MF drying towel to completely dry. We then use the Sidekick dryer for all the hiding spots(mirrors, grille, tail lights, quarter windows, etc)
Work your way around the car doing panels at a time. I'm generally doing Roof, Hood/Fenders, Bumper, Driver door back to quarter panel, Trunk and rear bumper, Passenger door back to quarter panel. Those are my sections but I don't let my car get very dirty. If it was dirty, I would use more towels and do strictly one panel at a time.
Bring the bucket and the BEER with you as you work your way around the car(this step is important). You can't be running around for that beer.