Lord knows I'm a Voodoo Child
Moderator
3,946
1,699
Exp. Type

W2W Racing
Exp. Level

10-20 Years
Guys and Gals
If you don't have $6000 on "magic" brakes here is a potential inexpensive (like anything is inexpensive) upgrade from either stock 4 piston 14" Boss Brembos OR 6 piston 15" GT 500 Brembos----------6 piston 15" S550 Performance Pack Brembos!!!!
I am doing full chassis service on the BAUS and decided to see if the 6 pots from my S550 will fit, this based on an obscure post I saw on SVT Performance that only said that they did, with no real detail. Well here are the photos and they really tell the tale, I know from tracking the '16 that the brakes definitely feel better and perform better so on a 100 lb lighter car the gains should be confidence inspiring. Best part is it is cheap. New calipers, rotors and clips can be had from Ford for about $700, pad selection from Carbotech and GLoc are abundant and word is that Hawk and possibly Pagid (ahem Pete) will have pads in 2017. Any details please ask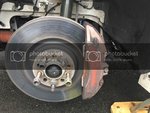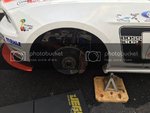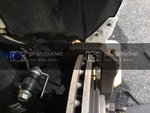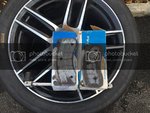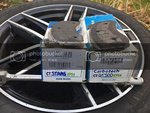 Steve
Now if I can figure out a cheap 4 piston fixed rear caliper...............