I'm swapping out street to track pads wasn't paying attention. Which way do the clips go? The caliper runs up and down. Long part of the clip up or down?
Thanks!
Never mind --- I think I found a pic. Bleeder up which make this the driver side. Looks like the longer part of the clip goes up.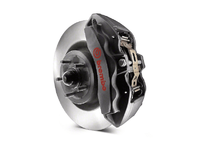 Not the mustang's but still brembo - passenger side. Longer part of the clip up.